SHIFT your mindset, SHIFT your life.
Sisterhood. Healing. Inspiration. Freedom. Transformation.
Big island, HAWAII
FEBRUARY 15-19
"Attending that retreat was one of the best decisions I've ever made." -Your Future Self
"It was the best weekend of my life." -Sharon
"This was worth more than my college education." -Anthea
"Absolutely life-changing." -Maya
"My kids, their kids and generations to come will live better lives because I was here." -Michele
You Are Invited To The Experience Of A Lifetime...
Cutting Edge Personal Life CoachinG

cozy Accommodations On a 24-acre eco preserve on the beautiful big island

Deep female bonding

Tasty Healthy Food All-Included

Healing breath work and yoga
All for just $599! Payment plans available.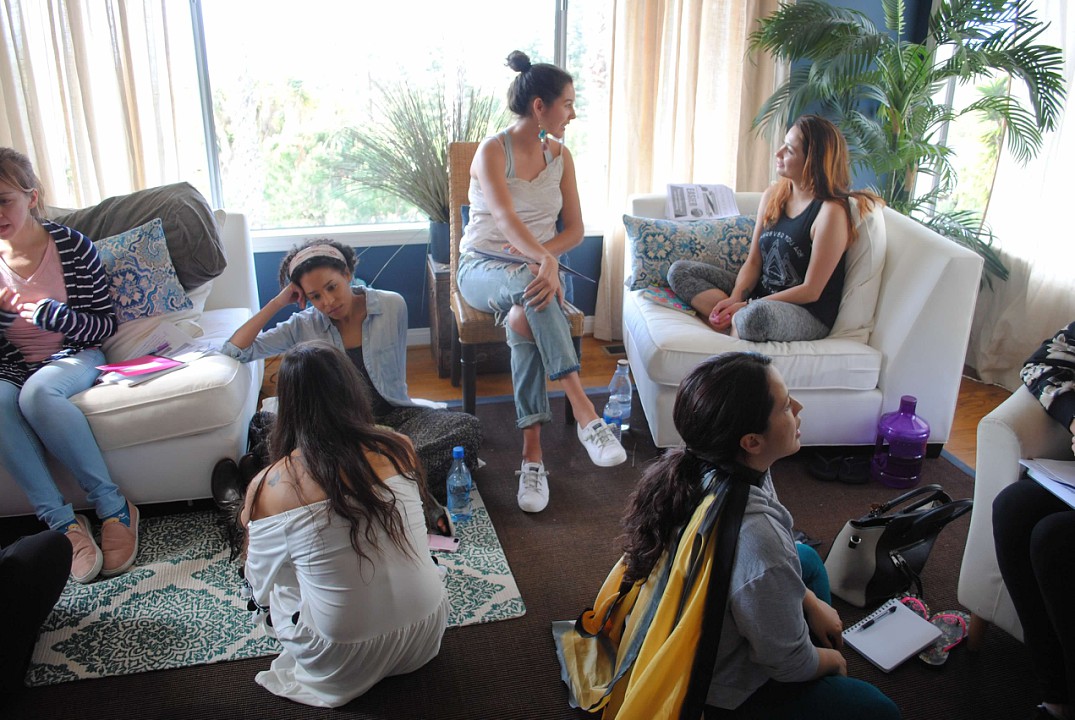 Your mission, should you choose to accept it, is to remove all internal barriers to following your heart, trusting yourself, making powerful choices, forgiving, connecting to others and pursuing a life that you love.
See some sample coaching clips here:
topics covered.* How to:
see new possibilities for your future

Get freedom from negative thoughts, shame and judgement

make powerful choices

Be more confident

Create an inspiring action plan for fulfilling on your dreams

Get clarity about your life purpose

Have relationship breakthroughs

Create more abundance, fun and freedom in life

Love your body
Are you ready to take a weekend for yourself, full of all the things you love?
What if I told you that you could get clarity on your purpose and a clear action plan in only a few days? Well, it's possible!
How?
When you combine amazing visionaries, a group of like-minded women who will become new fast friends, and powerful deep inner work, you're left with the most important transformational weekend of your life!
Have you ever wished that you could just get away for a few nights and figure it all out? Instead of wasting money on hotels, cab fare, or drowning another margarita poolside, why not do something that will actually help you to change your life?
You know, something that can help you to process emotional blocks, get rid of stress over body image issues, clear out uncertainty in your relationships, abolish fear over finances, and even eradicate anxiety about major life changes! All while staying in a beautiful cabin next to the ocean, eating amazing healthy food, and learning about the the real way to have peace inside and out.
This retreat will break down radical honesty, self-discovery, mindset shifts, and emotional courage into a series of breakout workshops, small groups and life-changing fun and conversation.
You will receive therapeutic group session work, in addition to one-on-one personal coaching strategy sessions to dive even deeper into the foundational work that will be built, collectively, as a group of empowered women who are dedicated to to their success.
Testimonials
What's included?
(participation optional for everything except group coaching sessions):
Beautiful lodging

12 home cooked meals

20+ hours of transformational coaching

Deep connection workshop

Daily yoga

Nutritional consulting

Guided breath work

Excursions in nature

Arts and crafts

An inspirational goodie bag

Dance class

Deep, authentic connection and lifelong friendships with amazing women (priceless)
How much?
A $5,000 value for just $599!
Payment plans available!
Who is this right for?
This retreat is perfect for anyone who identifies as a powerful and heart-centered creative woman.
Any age above eighteen are welcome to attend the three day event.
Most of our past workshop attendees are between the ages of 21 and 71.
Everyone from college students to busy professionals, to holistic healers and teachers, and everything in between are all welcome to attend this extraordinary group retreat.
Each retreat is created with the present attendees in mind, and things can be switched to speak to what you most need to hear.
Anyone who has an interest in the following are a good fit.
Self-development and introspection

Yoga

Healthy food prepared fresh on-site

Creating lifelong bonds with other amazing, creative women

A beautiful cozy home
This retreat is a success plan that has been specifically tailored to help you breakthrough your blocks and become the amazing woman that you've always wanted to be!
The team behind this retreat have reached thousands with their psychological, spiritual, and heart-based teachings and strategies. You will learn several systems that can help you to tackle even your toughest issues.
When you think about where you're stuck in your life it probably comes down to a few key areas.
In fact, we've broken everything down into three simple steps--one for each of the three days.
In this retreat you will learn how to:
Practice life-changing approaches with those present at the event that you can take back to your relationships at home. Become a more dynamic and emotionally available friend, colleague, lover, and woman! And you may even make some friends for life!
Choice is a powerful responsibility. Learn how to attack change from the root of your choices. Powerful choosing creates lasting results. Learn a new way to refine your ability to take control back over your life.
We create with our words and actions, our feelings, and emotions. When we learn how to become the source of our own creation we can take on ownership of our life in a whole new way. Create the wonderful life you deserve!
Because these three topics are so important we are dedicating a day to each of them.
CONNECT
During this portion of the retreat we will focus on ways that you can gain confidence, create meaningful connections with others, and create the life of your dreams. We will discuss how we are all trapped in a vicious cycle of self-worth connected to achievements. This vicious cycle holds us back from connecting with others as our true selves. This means that we can become anything we want to be, so long as we understand our own power to make it happen!
Learn the strategy to become 10x more confident with others

Get clarity about your life's purpose

Learn the single biggest mistake that holds women back as connectors

Have Relationship Breakthroughs

Learn how to have deeper romance in your love life
CHOOSE
Choice is a powerful tool. In our lives we can feel stuck like we have no power. When in reality, we have all the power! Being a powerful woman is all about choosing goals that our in alignment with your soul! Learn how to take ownership of your decisions, goals, and free yourself from the impending stressors of time, toxic relationships, and unhealthy expectations.
Free your future from uncertainty and time constraints
Get freedom from negative thoughts, shame, and judgement

Learn tools to stop being indecisive

Learn how to speak up for yourself and reclaim your awesome power into complete ownership

Learn how to make decisions based on Soul Goals that inspire you and enrich your life with deeper meaning.
CREATE
We are constantly creating our lives. The third and final portion of the workshop helps us to understand that the more meaning you make, and the better your choices are, the easier and more effortless your creation will be. Everyone is a powerful creator, we just need to learn what is standing in our way!
Discover how to own your unique amazingness by creating a life you love

Create an inspiring action plan for your next year

Learn how to restructure your year so that you can be the most productive version of yourself

Learn to let go of body image drama that is holding you back from creating your best life.
If you're ready to start living according to what really matters to you (and stop wasting time desperately trying to prove your worth) then now is the time to sign up for this life-changing retreat!
FAQ
What if I've never meditated, done yoga, attended a retreat and/or gotten life coaching before?
No problem--you're in good hands! This retreat is for all levels and is accessible for everyone. Many retreat participants have never meditated, done yoga, attended a retreat, or gotten life coaching before. They find that they feel a profound sense of belonging and like they are right at home--totally comfortable, safe, free to express themselves and at ease. Plus, all participation is optional so you can adjust the experience to suit your comfort level.
What are the accommodations and food?
You and 14 other women will spend the weekend in a beautiful, spacious, eco forest retreat home on 24 acres of land. You will have your own bed and will be sharing a room with 1-2 other women. Bed choices are first come first served.
All food will be delicious, hearty, healthy, home cooked vegan meals. We will provide dinner on Friday night, breakfast, lunch and dinner on saturday, and breakfast and lunch on sunday. We will accommodate allergies and special requests with enough advanced notice.
How do I get there?
We do not provide transportation to and from the retreat. However, we will send out an email to all participants prior to the retreat to coordinate carpooling.
How do I prepare?
After registration, retreat host Brandilyn will set up a time to have a 15-30 minute phone call with you to set your intention for the retreat. After this phone call, you will be clear about what you want to get out of this weekend and will be ready to dive in.
What is the refund policy?
There are no refunds, only transfers to another retreat date in the case of special extenuating circumstances.
Still not sure if this is right for you?
E-mail Brandilyn.Tebo@gmail.com to schedule a conversation to get any additional questions answered, to see if this weekend is the right fit for you.
February 15-19 on The Big Island, HI
* Results vary from person to person.